Edinburgh, United Kingdom, February 6, 2012 – Wolfson Microelectronics Co., Ltd. announced the launch of its loudest and smallest Audio Hub chip WM1811. This new ultra-low power stereo audio hub is specifically designed to provide extended battery life and rich audio quality. WM1811 is positioned for MP3 music and video playback in smart phones and other portable devices with rich multimedia functions, such as tablet computers, e-book readers and media players.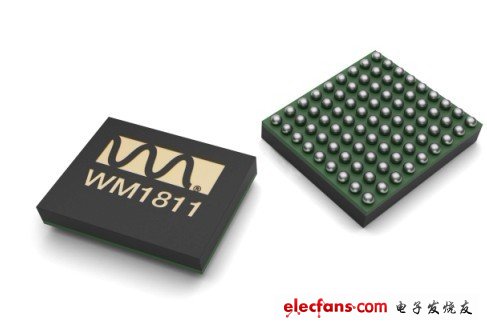 During digital-to-analog converter (DAC) playback, the WM1811 can provide 100dB signal-to-noise ratio (SNR), loud and clear voice calls, and rich audio playback for music and video. Using the optimized power consumption and performance of WM1811's 2W stereo Class D speakers and high-output headphone amplifiers, manufacturers can create incredible high-definition audio user experiences and long battery life. With its small size and fully integrated design, WM1811 requires fewer components than discrete solutions, which can provide manufacturers with smaller circuit board (PCB) footprints and reduced bill of materials costs.
During audio playback, the stereo Class D speaker driver and Class W headphone driver built into WM1811 minimize power consumption and maximize volume. Its stereo full-duplex asynchronous sampling rate conversion and multi-channel digital mixing, combined with a powerful analog mixing, makes WM1811 support a wide range of architectures and application scenarios.
It has built-in Wolfson ReTune â"¢ programmable parametric equalizer that provides speaker compensation in the digital playback path. In addition, the dynamic range controller can be used in the recording or playback path to maintain a constant signal level and maximum volume, and protect the speaker from overload and limiting.
Duncan Macadie, the product line manager of the audio hub of Wolfson Microelectronics, said: "WM1811 provides excellent audio performance and ultra-low power consumption, plus a less bill of materials, so that our customers can use smart phones, tablets and Other handheld platforms provide enhanced user experience. Designing products with WM1811 allows consumer electronics manufacturers to differentiate their end products in the market by virtue of audio performance and battery life. "
Shenzhen Dituo Electronic Co.,Ltd. is the China leading manufacturer and supplier of Ultrasonic Diffuser, Ultrasonic Essential Oil Diffuser, and we are specialize in Ultrasonic Aroma Diffuser,Essential Oil Diffuser, etc.
The Ultrasonic Diffuser dissipates water molecules and dissolved essential oils into nanometer-grade cold mists with a diameter of 0.1-5 micrometers in the surrounding air through the high-frequency oscillation generated by the ultrasonic vibration device, so that the air is full of fragrance. After heating in winter, the indoor air is dry, people will have dry lips, dry throat, dry mouth, dry skin, nose bleeding and other "heating dry" symptoms, Ultrasonic Essential Oil Diffuser uses a variety of ways to atomize water and pure plant essential oils, so that the room maintains a high humidity and produces a certain amount of natural negative oxygen ions to purify the air while achieving the effect of aromatherapy.
Ultrasonic Aroma Diffuser is a fashion, a culture, and a spiritual sustenance for people who pursue high-quality life.
Ultrasonic Diffuser
Ultrasonic Diffuser,Ultrasonic Essential Oil Diffuser,Ultrasonic Aroma Diffuser,Essential Oil Diffuser
Shenzhen Dituo Electronic Co.,Ltd. , https://www.sz-dituo.com