In the past two years, cloud services have become the "golden pool" of major Internet companies. All Internet giants with a certain amount of volume have all launched their own public cloud services. Netease Cloud has come late.
Recently, NetEase finally launched its own public cloud service.
One thing is beyond doubt: As a veteran of the Internet, Ding Lei of Netease was created in 1997. Since he came to play, he will definitely try to win. In this game, NetEase.com staked its winnings on the "differentiated" card.
We may wish to take a look at how Ding Lei hit the "Netease Cloud" card, which "puts billions in advance" under severe circumstances.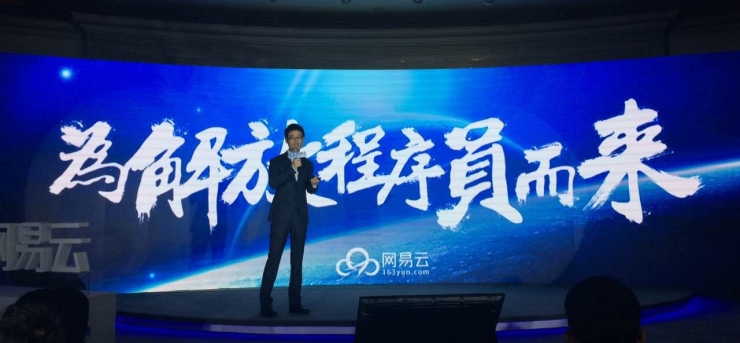 Cloud computing latecomers? Netease does not recognize
Although public cloud services were not introduced until today, NetEase does not consider itself a latecomer to cloud computing.
Our NetEase mailbox has been providing services since 1997. Although there was no such thing as "cloud computing" at the time, the shape of the mailboxes was the standard cloud storage.
Wang Yuanru, executive director of NetEase Hangzhou Research Institute, said. I can't refute even if I think about it. From this perspective, as the first batch of Internet companies in China, NetEase, it is really early to start cloud computing.
Simple combing Netease to do the cloud "heart road":
In 1997, Netease launched the mailbox service.
In 2006, Netease established the Hangzhou Research Institute to deal with technical challenges and was responsible for technology research and development.
In 2012, NetEase's senior Internet business began to run on NetEase Cloud (private cloud).
In 2013, NetEase found that its own engineers had difficulties with the use of their own cloud services, and began to do professional training for internal employees.
In 2015, NetEase launched a public cloud service.
These actions are all rare wealth for NetEase's ultimate external cloud services. This will be discussed later.
If a startup needs a cloud service provider, he actually has a lot of options at the current time. NetEase needs to build certain barriers relative to Alibaba Cloud, Tencent Cloud, and even later Baidu Cloud. In layman's terms, NetEase needs to find out where it is doing better than BAT.
"NetEase product", Ding's emboldened
On the other hand, since the establishment of NetEase in 19 years, there have been many "classic works." From the NetEase mailbox used by 800 million people to the highly practical Cloud Notes, to Netease Cloud Music, which many stars have voluntarily recommended, it is easy to use NetEase Koala Marine, which has just emerged in just one year. This example has many examples. .
These products brought a large amount of users with a "small and beautiful" temperament. These products' reputation and user stickiness are all called "classic battles." This gives NetEase sufficient confidence in its aesthetic taste and product design. The spread of "Netease products, must be fine" reputation, really makes Netease stealing music in the middle of the night.
Therefore, the card played by Ding Lei is: Cloud Service + Product Capability.
This card is translated into Mandarin: Want to make Netease's products so NB? Use NetEase cloud.
It sounds pretty temptation.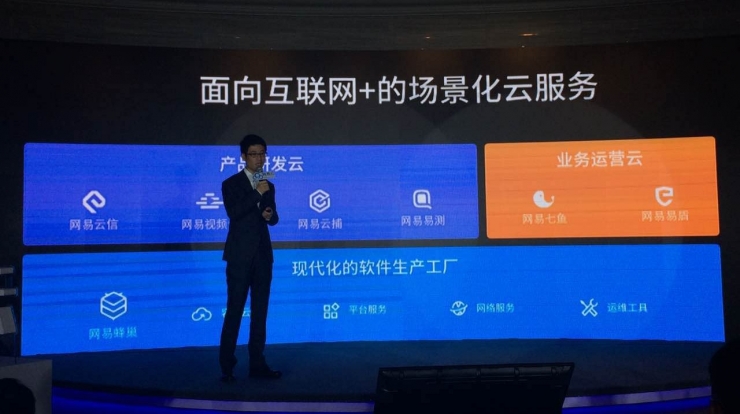 Wang Yuan is introducing the scope covered by the NetEase cloud product line
Terrible "sea fishing" service
For the above reasons, NetEase simply does not emphasize whether the cloud service it launches is Iaas, PaaS, or SaaS. Instead, it tells users that what I provide is a complete service for you to create a successful software.
The "success" suite is as follows:
NetEase cloud letter: instant messaging cloud service
Netease Seven Fish: Smart Customer Service System
NetEase video cloud:PaaS audio and video solutions
NetEase Hive: A New Generation of Cloud Computing Platform
Netease easy to test: Android device mobile product detection platform
NetEase Id: software filtering, smart yellowware and other anti-spam services
NetEase Cloud Capture: App Quality Tracking Platform
These services may seem messy at first sight. However, if you carefully sort out the logic, you will find Netease's ambitions.
First of all, these services are based on cloud computing and cloud storage capabilities, so they are led under cloud services;
Second, these services are aimed at the pits that will be faced by software development in startups, and cover the software/app life cycle.
Wang Yuan cited several examples for Lei Fengnet (searching for "Lei Feng Net" public numbers) :
App on the line:
"Debugging" and "going online" are standard processes that every software/app faces, but this is one of the "pits" for start-up teams. Repeated virtual machine environment construction will take a long time, and minor changes may lead to endless repetition of this process. In the eyes of Netease, the Netease hive is one of the pit filling methods. In simple terms, it is to use container technology to build a standard set of App testing, on-line processes, with a full range of fools.
Customer service:
Customer service crush service is an important indicator of software / App praise, but customer service crush is usually very expensive. As a start-up team, it is best to find "machine crush" to do it. However, for the startup team, obviously there is no energy and money to develop a quiz module based on artificial intelligence. That's right, Netease's seven fish are waiting next to this pit.
Anti-spam:
In the hot process of a software/service, all users can participate in the content creation area, and illegal information may appear. For example, the yellow content in the live application, such as the advertisement information in the message board. Illegal content can cause software to kill and even let the CEO eat rice (see Comrade Wang Xin). Therefore, the identification of spam and junk images is the "sweet annoyance" of each hotware/app. Netease easy shield is aimed at this pit.
In the on-site conference, NetEase's children's shoes emphasize that almost every service can be deployed in one click. In the words of Ding Lei, it is "liberating national programmers" to allow programmers to "look more and more away from home".
This kind of "sea fishing" service can not wait for the user to have a look and feed the food to the cloud service in the mouth. It is indeed a difference in the market.

Zhou Sen introduces the spam content that NetEase Idun can identify: yellow, terror, advertisement
Why buy NetEase's single?
In the description of Li Zhentao, director of Honeycomb Products, Netease Cloud can help the entrepreneurial team to evolve from a CTO-led code workshop to a standardized machine production with this "scenery" cloud service. Today, it becomes a modular workshop production. (In other words, the use of honeycomb prefabricated modules can be freely adapted to new business development).
Then the problem came, NetEase's products, although good reputation, but what their strength to say that they have an advantage in the "software industrial production"?
NetEase's logic of argument is simple and crude: These cloud services that are "packaged and sold" are my own "catch dishes."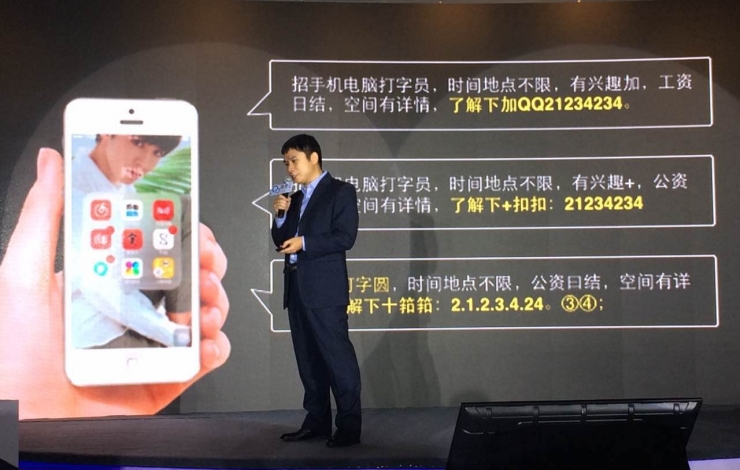 Zhou Sen introduces common "junk words"
E.g:
Netease Mail - Anti-Spam:
According to the introduction of Zhou Yi, general manager of NetEase E-Shield, NetEase Mail's anti-spam technology is led by his team.
The anti-spam technologies required by NetEase's mailboxes are very extensive, involving search engines, natural language processing and many other aspects. In the NetEase mailbox system, we can achieve awareness and shielding within 30 minutes of spam, which is our core confidential technology. We only added a part of the core capabilities we gained to Netease.
NetEase koala purchase - large-scale deployment:
From the perspective of the commercial performance of NetEase Koala Commercial, one year's time, the sales from the zero-billion-dollar level is remarkable. Li Zhentao attributed this success partly to the ability to flexibly deploy.
In the initial stage of koala, we must face frequent updates. With the "line production" approach, we have raised the frequency of updates twice a day to 11 times. When the number of daily living exceeded 10 million, there was no case of service interruption. This was due to flexible expansion.
NetEase news and NetEase cloud music provide technical accumulation for Netease Video Cloud and so on.
Maybe it is overconfidence to its own technology, NetEase did not arrange cloud service existing partner partners come to power "brainwashing" for everyone, of course, the era of the Internet's brutality has long passed, the real market share is not by brainwashing can not wash "from.
To be fair, although NetEase came late, but relying on their own 19 years on the Internet, they also counted themselves as being able to compete with other giants. The Internet has always welcomed NetEase's "dressed elegant warrior." However, NetEase's competitors are all "old Chinese medicine practitioners" who have been immersed in the Internet for many years. As for whether they can subdue NetEase's "spoiler", expect time to give an answer.
Grinder Machine,Surface Grinding Machine,Grinding Equipment,Tool Grinding Machine
Hunan Furui Mechanical and Electrical Equipment Manufacturing Co., Ltd. , https://www.thresher.nl