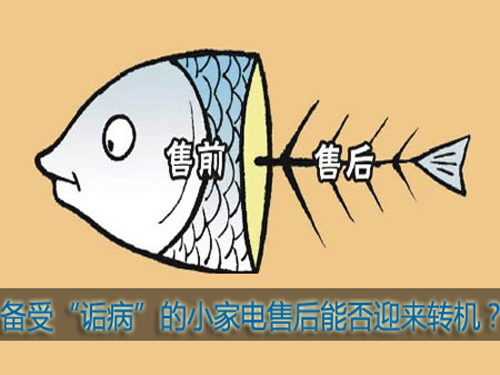 "Warranty period, after-sales free, all explained to the user," has always been like a "chicken ribs" of small appliances repair has finally appeared some gratifying changes.

Steady growth of small home appliances After-sales service is a hard wound According to GfK China's national retail sales projection data, China's small household appliance market retail sales in 2014 was 114.4 billion yuan, an increase of nearly 13% from the year-on-year growth rate in 2012. It is expected that China's small household appliances market in 2014 Retail sales are around 128 billion yuan. Small appliances have become a new profit point for the home appliance market, which has gradually declined in recent years.

In addition, according to industry analysts, the development of small household appliances in China is still very large. There are about 200 varieties of small household appliances on the European and American markets, while the Chinese market has less than 100 varieties. From the number of households owned by each household, the average household per household in developed countries has about 37 small household appliances, and each household in China's urban households There are less than 10 small appliances. With the acceleration of urbanization, the small home appliance market still has great potential for development.

For this reason, many large and small home appliances companies in China are scrambling to eat this piece of cake in the small household appliance market. However, in contrast with the rapid development of the small household appliance market, the sale of small home appliances is somewhat "powerless."

A few days ago, people from the media commented that most of the traditional small home appliance manufacturers had uneven levels in the after-sales service. Some manufacturers sold their products after they left unattended after-sales service, causing consumers to be at a loss when they encountered product problems. According to research data, most of the current consumer dissatisfaction with small home appliances, mainly in the existing small household electrical appliance enterprises in the after-sales service and consumer rights protection is not perfect, although some small household electrical appliance enterprises provide after-sales service, but Can not fully solve the user's after-sales service needs. In some first-tier cities and second-tier cities, where most consumers are dissatisfied with the after-sales service of existing small household appliances enterprises, they are mainly reflected in high maintenance costs, fewer maintenance points, shortages of spare parts, resulting in long maintenance procedures, maintenance of mutual wrangling and so on.

Why small home appliances have been criticized after sales? Home appliance analyst Liang Zhenpeng said that the basic reason for small home appliance complaints lies in the small size of small household appliances companies. Many small home appliance companies now outsource their after-sales maintenance services to third-party repair agencies or other companies. Usually when they commission, they will explain that when the consumer repairs with purchase invoices or production numbers, they provide consumers with free repair services or replacement parts during the warranty period. However, if there is a problem with the product, it is difficult for the third-party maintenance organization to guarantee the quality and efficiency of the service, and there may even be self-claims charging the consumer.

Pain point has been "full free" can break through the difficulties of small household electrical appliances as a tool to tie ordinary consumers' daily life, its market capacity is very large, and its after-sales service is also very popular with users. According to survey data, there are currently more than 53.4% ​​of consumers are very concerned about the small household electrical appliance after-sales service, and 69.6% of first-tier cities users said they would not buy small home appliances without after-sales warranty service.

Industry experts generally believe that to solve the problems of the small household appliances industry, mainly depends on the production companies. In this case, the voice calling for innovation in the after-sales service of small appliances is getting louder and louder.

In fact, for consumer pain points, businesses are also actively looking for better models to enhance the consumer service experience. Not long ago, Samsung Electronics launched an "artificial video" service, so that consumers could present the problem of household appliances to customer service engineers most intuitively. Under the real-time guidance of engineers, you can manually adjust the relevant settings to solve simple faults. In the past two years, the e-commerce platform surging in popularity has also adopted "enhanced service" in order to solve the after-sales problem. The scrambled puppies that have been scrambled in recent days have made a big uproar in the industry with free repair services from the center. Then, can the dog "scratch repair" really solve the problem of small appliance repairs?

First introduced, what is repair. Simply put, as long as the product is within the three-guarantee period, regardless of the quality of the product or the problem caused by the user, the puppy's electrical appliances will be repaired for free, without any cost. Just call the puppy "scratch repair" customer service phone, agreed on-site pickup time, repair and return directly to the consumer's home.

For this after-sales service, the Deputy Secretary-General of the China Electronic Chamber of Commerce, Lu edge wave, said that this model reflects the gradual maturity of the external environment such as logistics, to find a way to solve the small household appliance maintenance field that has been in a state of chaos, worthy of the home appliance industry Reference.

The puppy electrical founder Tan Chong said: In order to be able to remove the stubborn illnesses of small appliances, welcome to follow the trend. Regardless of the original intention of the dog's electrical appliances, this can bring convenience to users and solve pain points worthy of praise. The "all-free" model has brought great disruptions to the small home appliances aftermarket industry, but in the end it can not be passed, and the point of return is still the product.

Wide used in Automotive Electronics,Appliance and Industrial Control etc.
Dustproof Micro Switch,Micro Switch Company,Long Lever Micro Switch,Micro Selector Switch